Trend Micro Apex Central™ is a web-based console that provides centralized management for Trend Micro products and services at the gateway, mail server, file server, and corporate desktop levels.
Prerequisites
Need Admin Login credentials for the

Trend Micro Apex Central

.
Configuration
Create a Remote Log Target
Log in to your Trend Micro Apex Central.

Go to Administration > Settings > Syslog Settings
Now Enable Syslog Forwarding check box.

Configure the following settings for the server that receives the forwarded Syslog,
A. Server address: Forwarder IP Address
B. Port: Syslog Server Port number
Note: We use the Chronicle Port Number as '11650'
C. Protocol: Select the Transmission protocol (SSl/TLS, TCP, UDP)
Note: We use the Protocol as 'UDP'
D. Format: Select the log format (CEF or Apex Central Format)
Note: For Chronicle we use the Log Format as 'CEF'
E. Frequency: Configure the frequency for when Apex Central forwards the logs
F. Log Type: Select a log category from the Log type drop-down list:
- Security logs
- Product information
Select list of Log categories to select additional Logs types to forward.
5. Click Save.
Now the Logs will be generating to the Chronicle as SYSLOG + KV, CEF format.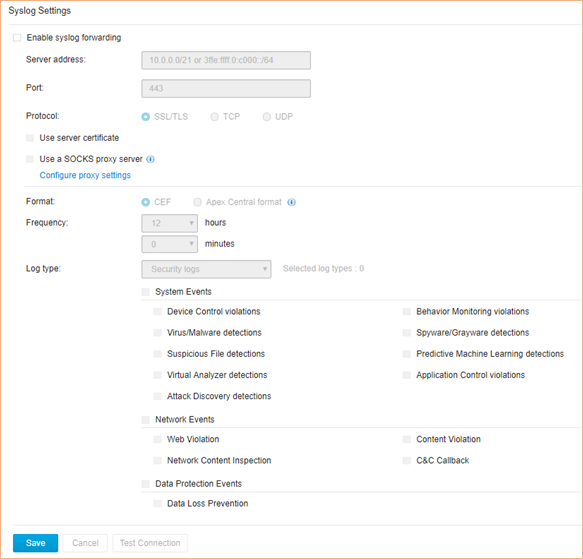 Once the configuration is completed, need to validate the logs in chronicle using a regular expression as (".*") this expression or with specific hostname, will provide the log source types which are ingesting to chronicle, below is the screen shot for reference.