Cisco Firepower is an integrated suite of network security and traffic management products, deployed either on purpose-built platforms or as a software solution.
Prerequisites
Access to Cisco Firepower Management platform.
Port 11521 TCP/UDP allowed from Cisco Firepower to Forwarder.
Configuring Cisco Firepower syslog
Creating a Syslog Alert Response
Choose ASA Firepower Configuration > Policies > Actions > Alerts.
From the Create Alert drop-down menu, choose Create Syslog Alert.
Enter a Name for the alert.
In the Host field, enter the hostname or IP address of Forwarder server.
In the Port field, enter the port number as 11521.
From the Facility list, choose a facility LOCAL7.
From the Severity list, choose a severity INFO.
Click Save.
Configuration for sending the Traffic Events
Navigate to ASA Firepower Configuration > Policies > Access Control Policy
Edit the access rule and navigate to logging option.
Select log at Beginning and End of Connection options.
Navigate to Send Connection Events to option, select Syslog, and then select a Syslog alert response.
Click Save.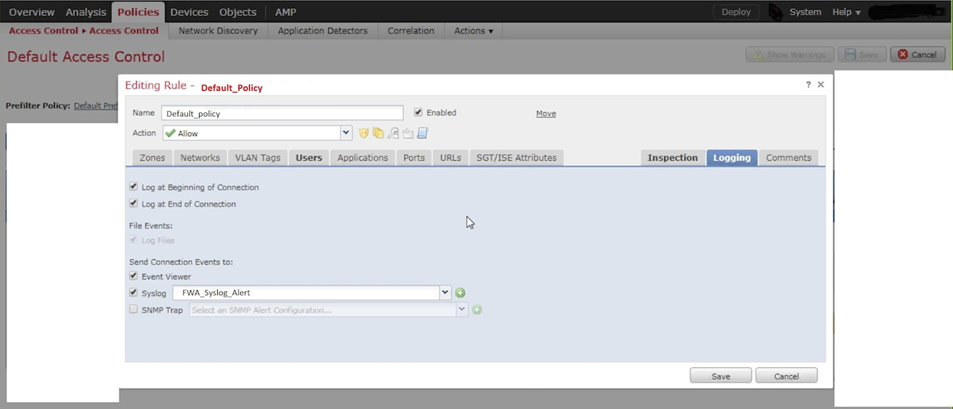 Once the configuration is completed, need to validate the logs in chronicle using a regular expression as (".*") this expression or with specific hostname, will provide the log source types which are ingesting to chronicle, below is the screen shot for reference.