On the dashboard listing page, you can duplicate and export a dashboard that you created.
To do this, click on three dots seen at the left side of the listing page beside the dashboard name. This action displays a small pop-up in which you can see the following options.

Duplicate Dashboard
You can recreate the same dashboard content by clicking on Duplicate Dashboard option.
Export Dashboard
You can export a dashboard content in JSON by clicking on Export Dashboard option.
Dashboard Listing Page
Once you publish the dashboard, you would be able to view the dashboard directly under the respective category which is available on the dashboard listing page.
This dashboard listing page displays the details such as the name of the dashboard, category, tags, users with whom it is shared, information about the dashboard creator, created date, and last updated time.
View Audit Log
In the dashboard, you can see the View audit log at the end of the table which displays the list of updates done by the authorized users in the dashboard.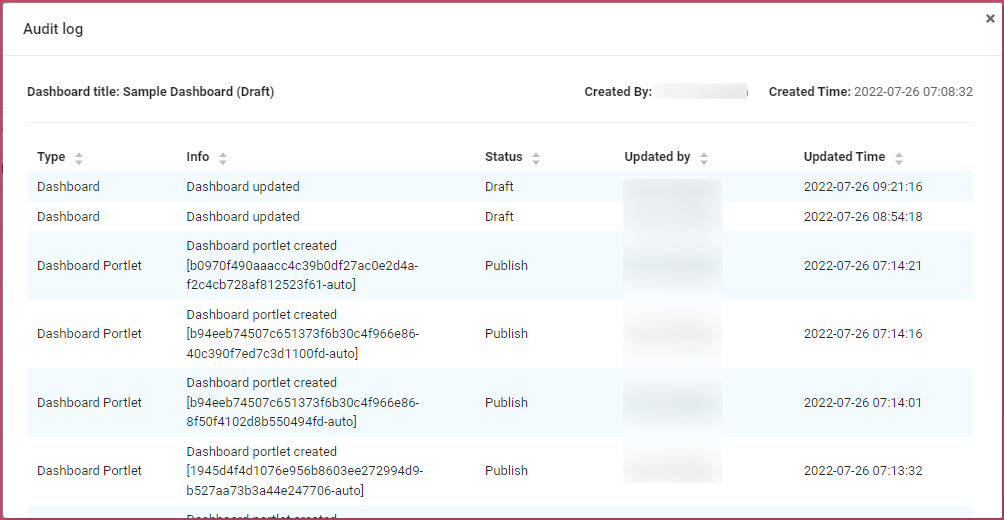 In the audit log, you can see the details such as the dashboard title, name of the creator, created time, and a list of logs that displays recent updates on the dashboard done by the creator.