Roles Required: The following roles required for successful configuration.
In ServiceNow:
A ServiceNow Administrator role
In Resolution Intelligence Cloud:
A Global Admin, Configuration Manager and Account Owner base role
Prerequisites
Ensure that you have the following prerequisites in your ServiceNow instance for seamless functioning of the Netenrich Connect app.
Plugin Dependencies
Installation of this app requires Service Management Core (com.snc.service_management.core) plugin. If you do not have this plug in, you can purchase it from the ServiceNow store by searching a product "Service Management Core".
Netenrich Connect has dependency on the following system plugin(s) that need to be installed separately.
| | |
| --- | --- |
| Plugin ID | Name |
| com.snc.change_request | Change Request |
| com.snc.incident | Incident |
| com.sn_customerservice | Case |
| com.snc.problem | Problem Management |
| com.glide.system_import_set | System Import Sets |
| com.glideapp.servicecatalog.platform | Service Catalog Platform |
To install the Netenrich Connect app v1.2.9,
Login to the ServiceNow Store using your credentials.
Type "Netenrich Connect" in the search bar at the top of your screen.
Click on Netenrich Connect tile obtained from the search result.
Click Get at the top right of your screen.


Note: Netenrich Connect app is now compatible with Utah, Tokyo, and SanDiego.

Select any of the options next to Entitlement. Recommended option is Make available for all instances.
Check box next to I accept the following.
Click Get.
Netenrich Connect app is installed successfully.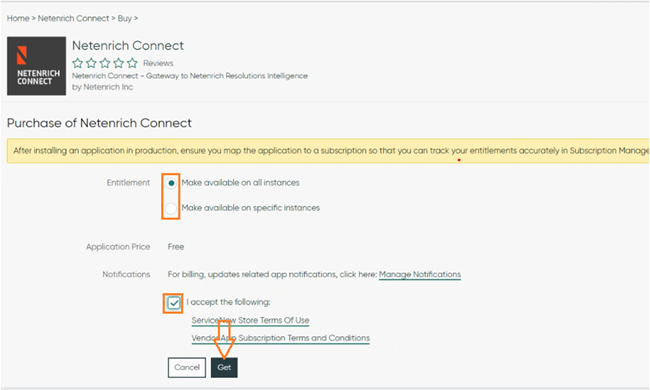 Post-requisites
After you have installed the Netenrich Connect app,
By default, netenrichuser is generated automatically. Make sure that the netenrichuser is set in TOP or Global domain. Also, ensure that the following roles are assigned to default netenrichuser.

rest_service,
web_service_admin,
x_nete2_netenrich.admin
Note
Netenrichuser is a default user and it can not be changed. Remember this netenrichuser username and password for future configurations.
All the Netenrich users should have read only role.

Read only roles are used to prevent the user from inserting, modifying or deleting records in tables that the user currently has access to by virtue of other roles or permissions on the instance.

One user need access to debug if we have any issues.
The following are the roles which are helpful in onboarding a user.

Owner: Customer Success Manager or the Service Delivery Manager who is responsible for the overall implementation of the application.
Project Manager: Onboarding team or Service Delivery Manager who is responsible for creating and tracking the project based on the scope and the timelines.
OpsRamp Admin: Onboards the client in OpsRamp or integrate other monitoring tools into OpsRamp.
Customer ServiceNow Admin: Modifies required changes to the customer business rules and installs the application in the customer environment.
Onboarding Team: Configures the Netenrich Connect application and the platform as per the customer requirement.
Solutioning: Customer Experience and Product Management teams
Netenrich Connect Developer: Fixes any bug that obstructs the application in the customer environment
Platform Owner: Configures the platform with required rules for correlation, auto ticketing and any customization if required.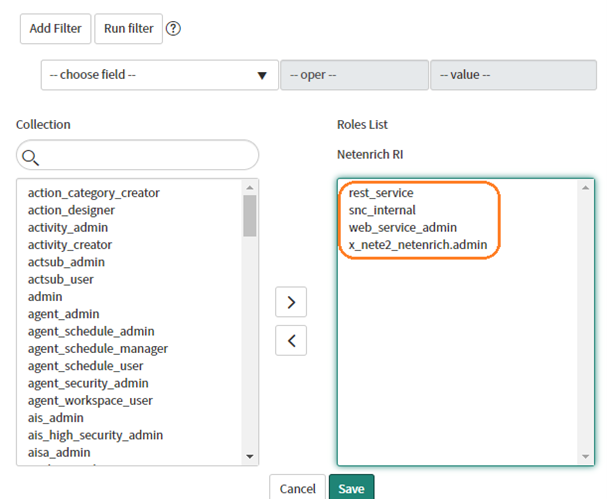 Optional
If the integration is setup by Netenrich professional services, create a new user with following privileges to configure the Netenrich Connect app other than default one. Ensure that you have assigned the following roles to the new user.

Admin
x_nete2_netenrich.admin