Learn more on how you configure a service to group signals into a situation, reduces noise, and route the situation to on-call users to remediate an issue.
User Permissions
Users with the following roles can create, view, edit, and delete the functions from the Resolution Intelligence UI.
Owner
Global Admin
A user with Manager role
Configuration Manager
To configure a service,
1. From the Home screen, navigate to Configurations --> Functions.
2. Under General Settings, enter the Name and Description (Optional) in the respective fields based on the function that the service provides.
3. (Optional) Under Situation Settings, select an existing Escalation Policy. Learn more on Escalation Policy.
4. (Optional) Check box left to the Mark as default function. Marking your function as default one enables irrelevant signals associated with the function and disallows you to route the signals to the function.
5. Under Route Rules, click Add route rule to associate signals to the function. Learn more on adding Rules.
6. Click Save.
Note: Functions are visible to the user who configured them and one's functions are not visible to others.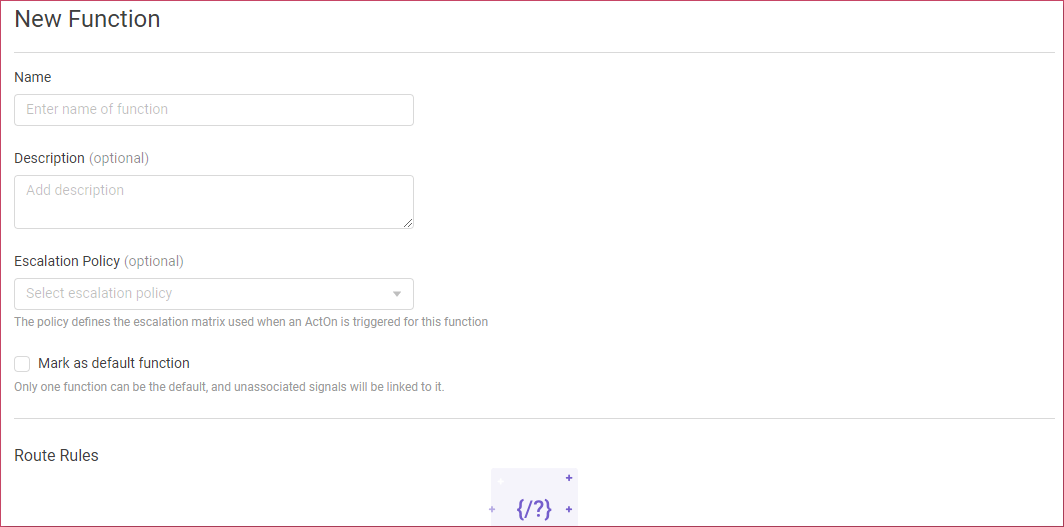 After you have created a function, it will be listed in the functions' home page. However, you can sort out them based on the name, created time, last modified time, and situation count.