Learn more on how you setup multiple data feeds for Chronicle to ingest telemetry data from the following video.
With Foundation, Analytics, and Resolutions plans, you would be able to ingest telemetry data from multiple sources to Chronicle. Visit this page for more details on available plans.
Resolution Intelligence Cloud enables you to send the alert logs from multiple ingestion sources such as Google Cloud Platform, Amazon AWS, Microsoft Azure, CrowdStrike, Falcon and 950+ other cloud services to Chronicle where they are parsed, enriched, and get updated with a context in order to notify SOC analyst if there is a potential threat possess to your IT environment.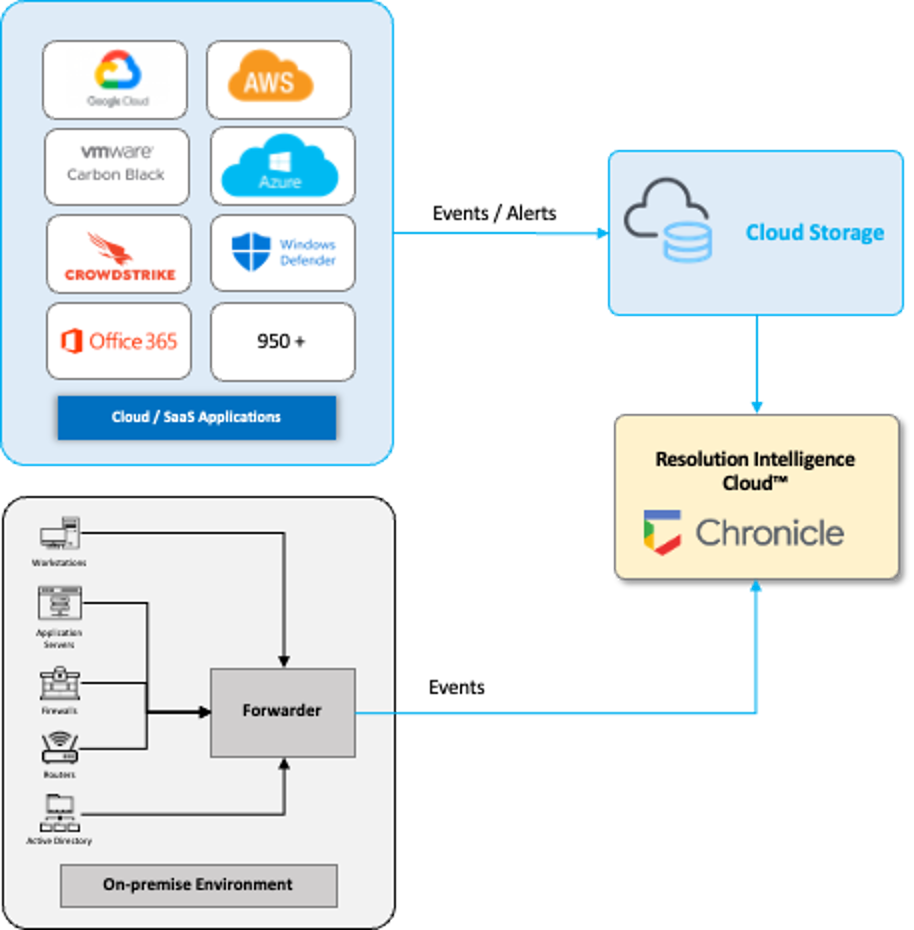 Chronicle Feed Setup
Prerequisites
Before you begin ingesting data, ensure that you have integrated Chronicle with Resolution Intelligence Cloud.
Required Permissions
Owner
Global Admin
A user with Manager role
Configuration Manager
Setting up feeds for Chronicle
To configure feeds,
Login to Resolution Intelligence with your credentials
Click gear icon at the top right of header or hover over burger menu at the top left corner then navigate to Configurations --> Log & Data Ingestion
Click any tile that you would like to ingest logs
Under Storage Path, in Log Storage Path field, enter a required URL
Under Feed Options,

In URL is field, select any of the following

Single File: The URI points to a single blob that will be ingested with each execution of the feed
Directory: The URI points to a directory. All files contained within the directory will be ingested with each execution of the feed
Directory which includes subdirectory: The URI points to a Blob Storage container

In Source Deletion Options, select any of the following

Never Delete Files: Files will not be removed
Delete Transferred Files and empty disk: Transferred files will be removed and empties disk space
Delete Transferred Files: Only transferred files will be removed

In Ingestion Labels, enter label and value (optional)

Click Save