Learn from the following video on how you setup rules and assign scores to each situation to process multiple signals when the conditions are met.
Scoring-Templatization rules allow you setup rules on signals to analyze, make patterns from the similar signals and group them as as single situation in order to reduce noise and improve operational efficiency of an enterprise.
Configuring Scoring - Templatization Rules
Lets look at how you create rules and assign scores to each situation.
To create Scoring - Templatization rules,
Navigate to

Configurations --> ActOns

Click Scoring - Templatisation Rule
A rules listing page appears

Click

Add New Rule

on the top right of your screen.


A Rules creation window appears on your screen.

Give a

Name

for the Rule and add a

Description.

Click +Add Condition or +Add Group to enable matching conditions.

Select an Attribute, Operator, and Value from the respective dropdown menu.
Click X to remove the condition.
Enable Negate next to the condition to negate the condition.
Check Box next to the Match All to select all conditions that you have added.

Set the time period when the signal is active.

Always: irrespective of a time period
Only during a scheduled time: only on a specific date/time and/or recurrent time period

Select one or more actions as mentioned in Actions allowed to be performed for the rule.

Click on the

Create Rule.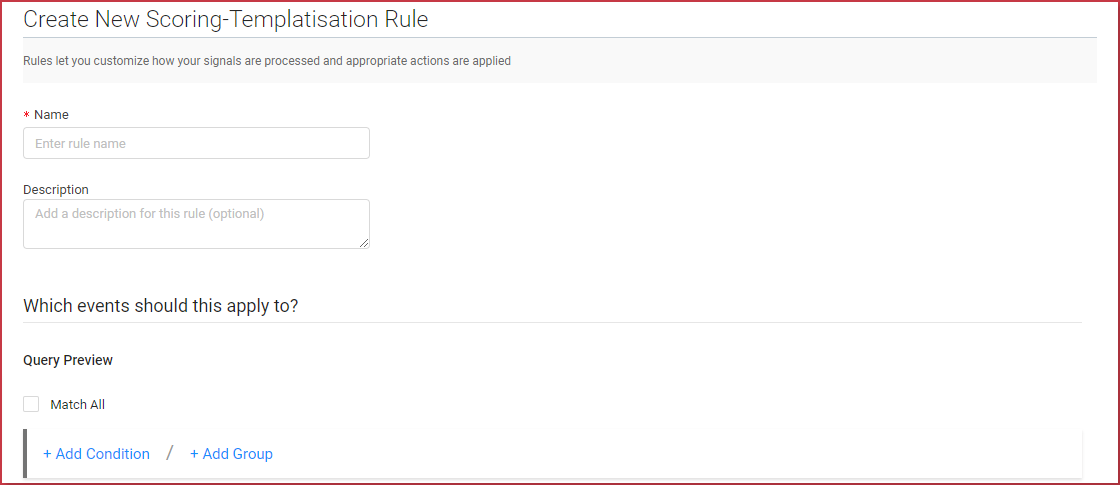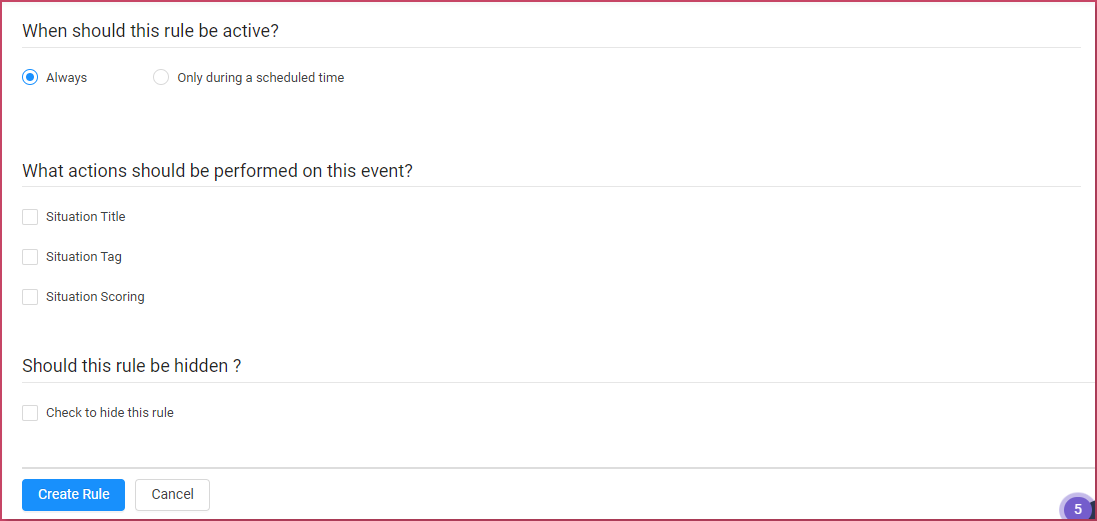 Actions allowed
An action is performed based on the conditions that are evaluated and can possibly result in the modification of the signal object.
For Situations
| | |
| --- | --- |
| Action | Description |
| Title | Give a name for the situation |
| Situation Tag | Set tags as key-value pairs |
| Situation Scoring | Set a score for situation |