Learn more on how you configure a service to group signals into a situation, reduces noise, and route the situation to an on-call users to remediate an issue.
User Permissions
Users with the following roles can create, view, edit, and delete the services from the Resolution Intelligence UI.
Owner
Global Admin
A user with Manager role
Configuration Manager
To configure a service in the Resolution Intelligence interface,
1. From the Home screen, navigate to Configurations --> Services.
2. Under General Settings, give a Name and Description in the respective fields based on the function that the service provides.
3. Under Situation Settings, select an existing Escalation Policy. Learn more on Escalation Policy.
4. Under How should responders be notified, select an appropriate option from below.
Notify responders until someone responds, escalates as needed (use high urgency notification rules).
Notify responders, do not escalate (use low-urgency notification rules)
Use signal severity to determine how responders are notified of each situation
Use defined support hours to determine how responders are notified

Resolution Intelligence provides a concept of urgency that allows you to send a notification based on how intense the situation is. Situations are either high urgency (take immediate action) or low urgency (not required immediate action). It means that you can set up notification rules so that you would not need to wake up in the early morning for low urgency situations that can be handled the next day or you can set up your own specific times of a day to respond to the situation. Also, you can use the severity of the signal to define how any situation notification can be sent to the respondent.
By default, all services can be set to Notify responders until someone responds, escalates as needed (use high urgency notification rules).
5.Enable the Situation timeout, if you would like to lapse the acknowledge situations after specified time period (e.g 10 minutes, 15 minutes, and 20 minutes). By default, this feature is disabled.
When this feature is enabled, an acknowledged situations will re-trigger after a specified amount of time. When the situation re-triggers, it re-notifies assigned responders and, if on-call responsibilities have rotated, the current on-call user, too.
6. Enable the Situation creation by selecting from the below options.
Create a Situation after Noise Reduction: If you select this option, you will be notified only after reducing the noise of a situation by processing through intelligent algorithms.
For example, let's say 10 signals are generated and notified to a responder due to the failure of 10 devices that are connected to a faulty Router. In addition to these 10 signal notifications, a faulty Router notification was also generated. In this case, if you enable Create a Situation after Noise Reduction, an algorithm will process and flush out the 10 signal notifications when the faulty Router is repaired or replaced.
Create a Situation Immediately: If you select this option, you will be notified immediately once the situation is generated.
7. Under the SLO threshold, select the appropriate option and enter a number in the given fields next to the below statements.
The error rate on the Service level signal -- the percentage of error denotes the downtime of any service that impacts the SLO of a business activity between tenant and domain.
Response Time on the Situation -- How long a resolver group takes to respond to any situation.
Resolution Time on the Situation -- How long a resolver group to resolve any situation.
An SLO is a key element of a service level agreement between the domain and the tenant. Resolution Intelligence provides a unique feature to define the response time, resolution time, and error rate of a service level signal to enable the responders to take necessary actions against those situation without breaking the SLO agreement.
8. Click Create Service.
9. To set the service as default, enable the Set as default service toggle switch located on the top right of the screen.
Now that you have configured a service but creating a service alone will not suffice to send signal notifications to the responders. You will need to create association rules to service to push signal notifications.
To create the association rules for a Service, do the following procedure.
Navigate to Configurations --> Services. Search and select your desired service.
From the Services screen, click Setup Advanced Config next to the service that you created.
In the Advanced Service Config screen, add the Rules under Route signals and Define Service Level Indicators tabs.
For more information on how to create Rules, refer to Configuring Processing Rules
Note: Services are visible to the user who configured those services and one's services are not visible to others.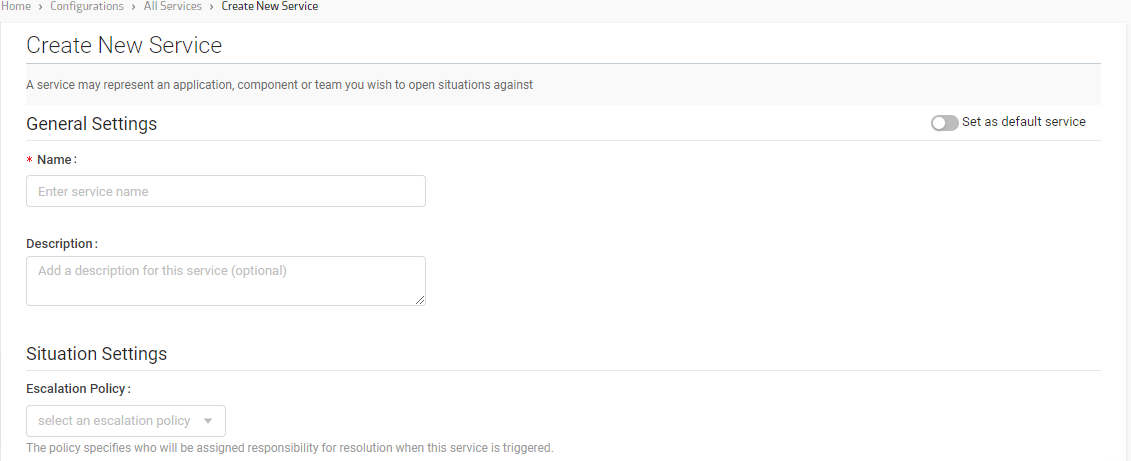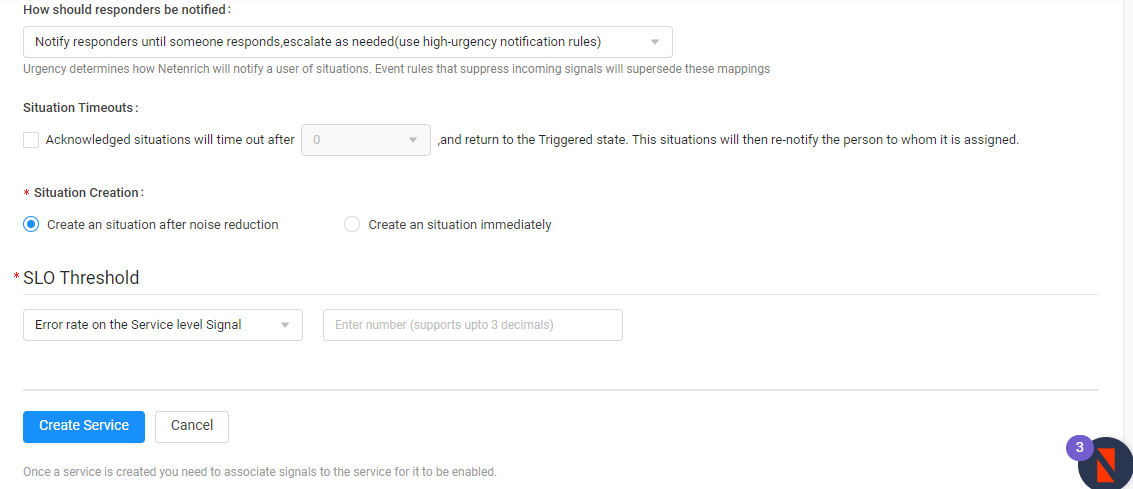 After you have created a service, it will be listed at top of the services' home page as shown below. However, you can sort out these services based on the service name, created time, last modified time, and situation count.