Digital Ops ActOns consist of the following tabs and each tab provides you critical information of an ActOn.
Score Evidence: The score of a ticket determines how critical the ActOn is. This score comes from auto ticketing systems by correlating signals using the rules engine and this score is associated with priority levels from P0 to P4. Suppose you have ten tickets that are tagged with P0 with respective scores, then you must pick and resolve the ticket which consists of the highest score.

Timeline: The timeline allows you to visualize the life cycle of an ActOn, which helps you to understand the behavior of a signal. The timeline also shows the history of status changes that is related to the ActOn. Each dot on the timeline denotes the status change.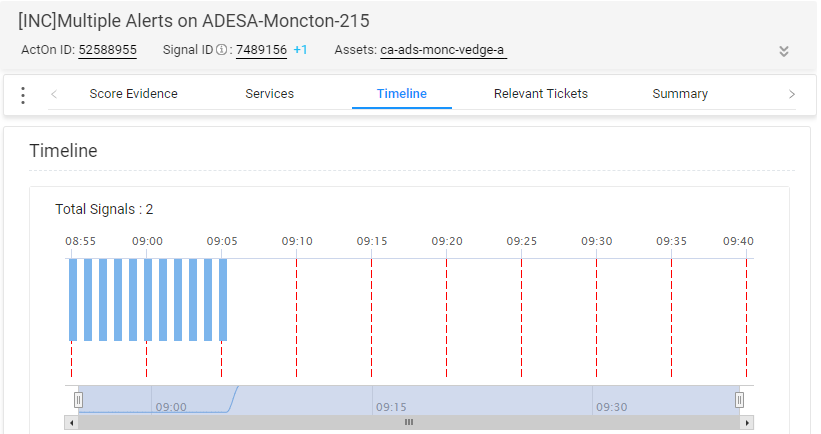 Relevant Tickets: These tickets might be generated due to a change that occurred in the life cycle of a ticket when you solve a problem associated with that ticket. This section lets you see if any relevant tickets are generated and what action to be taken against such tickets to resolve a problem.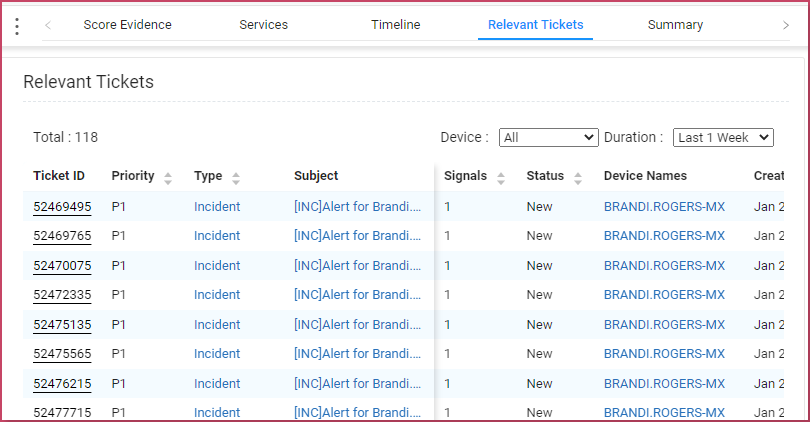 Summary: Summary gives you an overview of the ticket details without going through the comments available in the ticket. This summary is automated using an automated ticketing system. You can edit the existing summary using Edit. If no summary is available for an active ticket, you can include a summary by clicking on Add Summary button.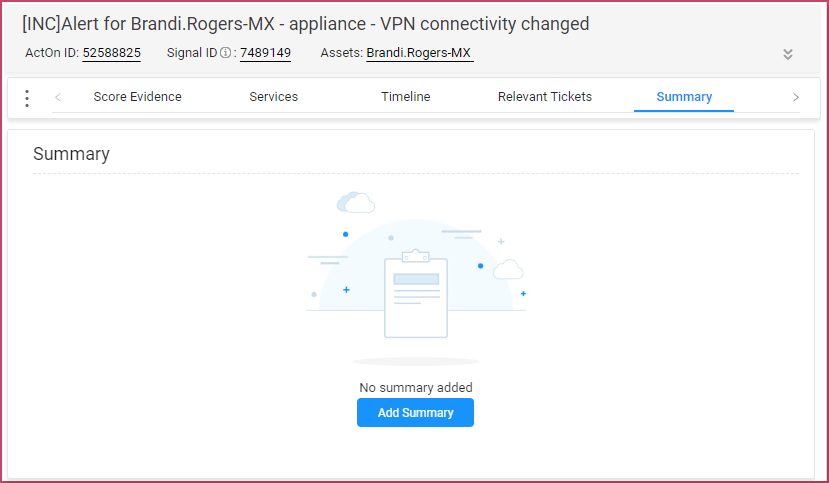 Signals: These signals are relevant to each other and correlated by a rules engine to prevent the creation of multiple tickets. Click on a Signal ID to view the details such as the signal's current status, source, the total number of occurrences, signal type, and opened for how many hours since the signal is created.


Assets: Assets are the physical devices from where an issue is raised, and a signal is generated respectively to that issue. You can see the name, type of an asset, and the type of operating system that runs on a device.


Tasks: Tasks allow you to break the bigger problems into smaller chunks which in turn help you to collaborate among multiple stakeholders to resolve a problem associated with the ticket.

You can create a task using the following steps.
Click next to the tasks. A window appears on the screen.
Select User in the Assign To field.
Select a Category from the drop-down menu.
Enter Start and Due Date.
Type the Name of your Task (Mandatory).
Type the Description.
Click SUBMIT.
After adding a task, you are free to verify the details of a task.
To verify task details,
Click Tasks at the top right of an ActOn
A task list appears
Click on a task that you would like to verify
A window appears at the bottom of your screen
Click to minimize or X to close the window