The Resolution Intelligence® contains a dashboard engine that allows you to configure or customize dashboards and their related widgets. Data from different sources can be organized into highly customized layouts, presented numerically or in tables or graphs.
The Dashboard page is the starting point when you log in to the Resolution Intelligence. A dashboard consists of one or more dashboard widgets. Depending on the types of widgets in a dashboard configuration, your dashboard can display a summary of your situation results for the last 12 hours.
Configuring a Dashboard
User Permissions
| | |
| --- | --- |
| Owner | View, edit, create, share and delete dashboards |
| Global Admin | View, edit, create, share and delete dashboards |
| Manager | View, edit, create, share and delete dashboards |
Create a dashboard by selecting the widgets appropriate for the data you wish to include, and then configuring the parameters of the widgets.
You can add widgets to the dashboard by clicking and dragging the widget's icon from the Add New Widgets panel to the page below. Once you have dragged the widget into the work area, you can configure it. To reposition a widget within the dashboard, drag it above or below another widget.
Note: If you are a MSSP user, you can create dashboards for Organizations or Tenants. If you are an organization user, you can create dashboard for Tenants only, but it is not allowed in a reverse manner.
To create a new dashboard,
From the left menu bar, navigate to Dashboards.
Click Create Dashboard displayed at top right corner of screen.
You will be redirected to a dashboard exploration screen where you can add or customize widgets as you required. (or)
Click (Import Dashboard) to upload a file from your local desktop.

4. Add Title to your dashboard at top left corner.
5. Enter the date in the Date Range field.
6. Click+ Add Section Header, if you want to divide the multiple widgets across various sections.
7. Select tenants to which you want to publish the dashboard.

6. In the dashboard exploration screen, search and select a source from the list at the left.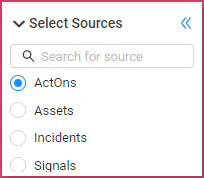 Source refers to the type of data you want to analyze such as
ActOns
Signals
Assets
Event Summary
Events Flows
Employee Audit Log
Entity Graph
Firewall Events
Incidents
Requests
Signals
Situations
Tenant Chronicle Details
Qradar Logs
Qradar Domain Logs
Health Check Assets
Health Check Exchange
Ingestion Stats
IOC matches
Log Source Details
Udm Events
Udm Events Aggregates
Once you select the source, respective dimensions and metrics are enabled.
7. Drag and drop or click the dimensions and their relevant metrics from the left menu.
Dimensions - are the non-numerical data which will not allow any calculations. Few examples of dimensions are name, day, country etc.

Metrics - are the calculated numerical values which represents the count of a particular parameters such as ActOns count, assets count etc.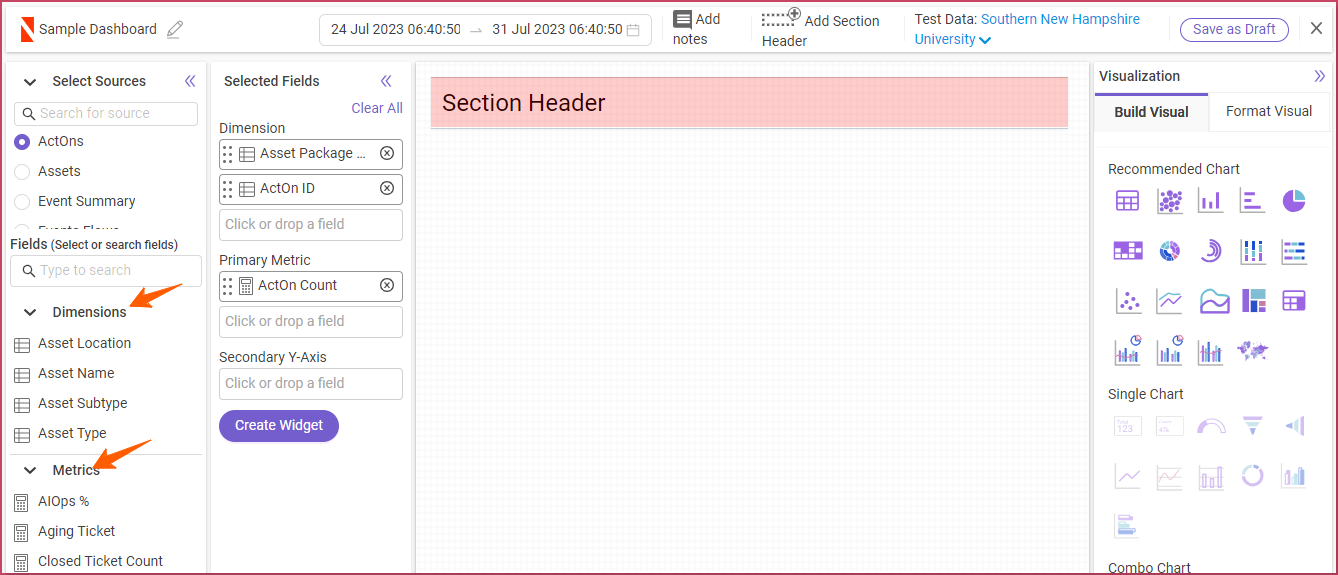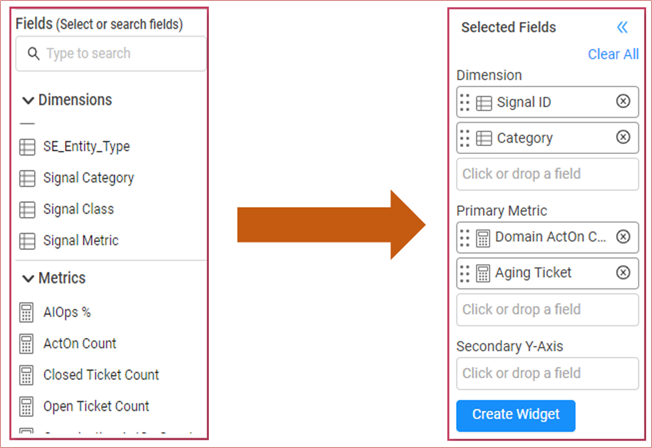 Note: You can rearrange the order of dimensions and primary metrics as you required just by dragging and placing at the required position.
8. Next, drag and drop or click on the widgets from the right menu where recommended visualizations are displayed. Recommended charts are enabled based on the dimensions and metrics that you select from the left menu.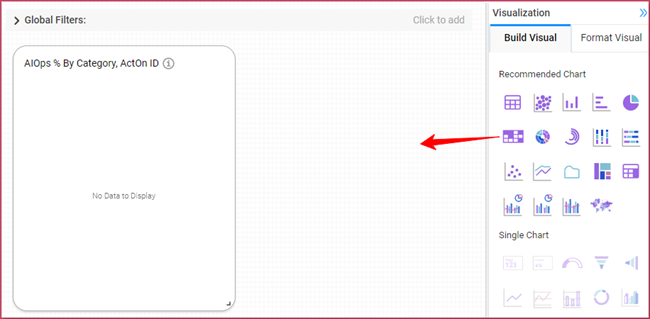 9. Click

if you would like to delete the widget that you dragged in the work area.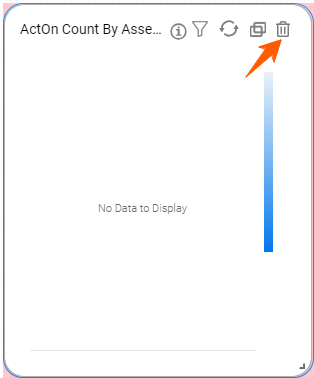 10. Click

to refresh the data shown in the widget.
11. Click

to make a similar copy of the widget.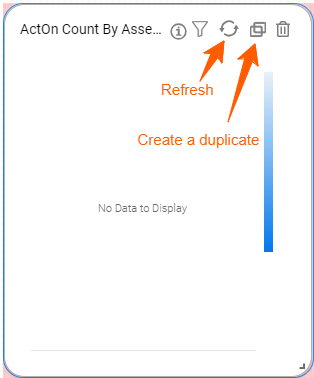 12. Click

icon to filter and show what metrics to be displayed in the widget.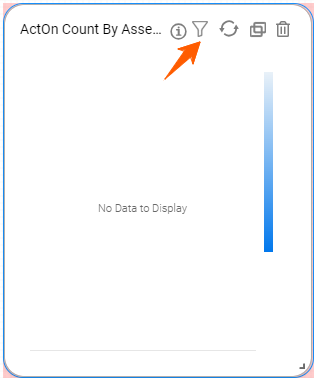 Enabling filters help you to refine the data at widget level based on what exactly needs to be shown on the widget after publishing the dashboard.
In the filtering window, click Add conditions under Build filters that you would like to restrict the values in a widget. For example, Signal metric in Active directory. You can add one or more conditions based on the requirement.
Conditions use logical operators such as 'AND', 'OR', for exact match etc.
For example, a sample query is given as

Asset Type = azure_rs_point AND !Asset Name = 134.209.119..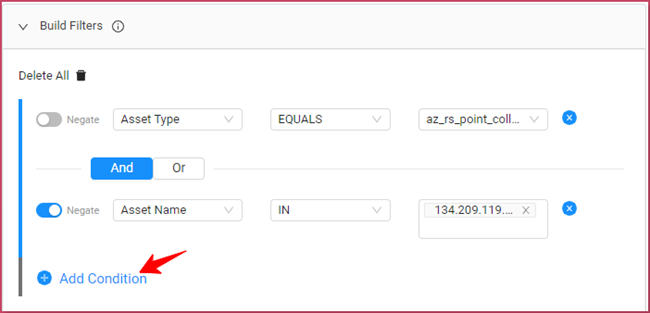 If would like to remove a condition (s), click X next to the condition that you have added or click Delete All at the top right of Build Filters window.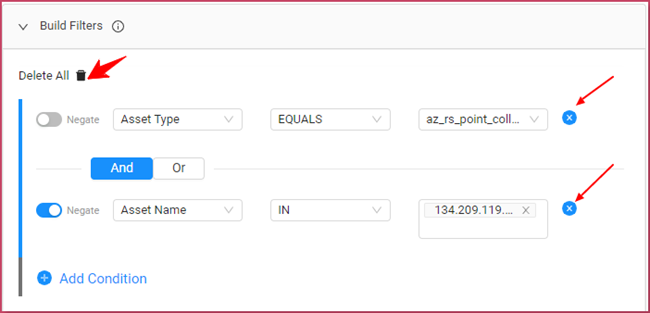 Enter a value in the Advanced filter. For example, Priority: P0 OR P1 OR P2.
Click on tooltip displayed in the filter column. A pop-up with sample filter queries appears where you can enter your own set of filters.

Select Top or Bottom numbers under Top/Bottom N that you would like to show in a widget. For example, Top 10 or Bottom 5.

Select a value under Last N Hours to show the metrics in a specified time. For example, this option shows the data for the last 12 hours, if you add a condition.

Click+ Add Rule under Threshold to show different color representations for variety data ranges. For example, you can add red color in your widget, if the incident volume crosses more than 1000, Orange color if the incident volume is between 100 to 999, Yellow color if the incident volume is less than 10.

If would like to remove a rule(s), click X next to that rule you have added.
Click Save at the bottom of your screen.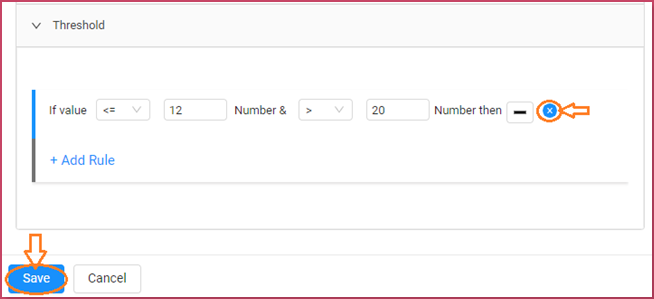 13. Once you configured one or more widgets, click Save as Draft at the top right corner of your screen.
The dashboard will be saved to the dashboard listing screen.