Learn from the following videos on how to add an organizations into your domain account to start performing operations.
Adding an Organization
Resolution Intelligence empowers you to configure your organization to enable multiple tenants in order to support functional activities.

To add an Organization,
1. Login to Resolution Intelligence with your credentials
2. Navigate to Configurations at the top from the home screen
3. In the left pane, under Domain, click Organizations
4. From Organization Screen, click Add Organization
5. In the Add Organization form, under Company details tab, enter the following fields
Mandatory fields:
Optional fields:
Industry
Timezone
Address
Country
State
City
Zip
Phone Number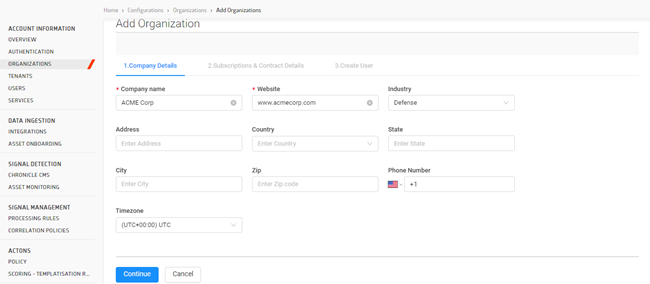 6. Click Continue
7. Under Subscriptions & Contract Details tab, select any of the following options
Inherit Subscriptions from Parent (or)
Buy the following plans

Resolution Intelligence Cloud - Security
Resolution Intelligence - Security
Resolution Intelligence - Digital Ops
8. Click Continue
9. Under Create User tab, enter the following fields.
Mandatory fields:
First Name
Last Name
Email ID
Optional fields:
Job Title
Phone Number
Mobile Phone
Timezone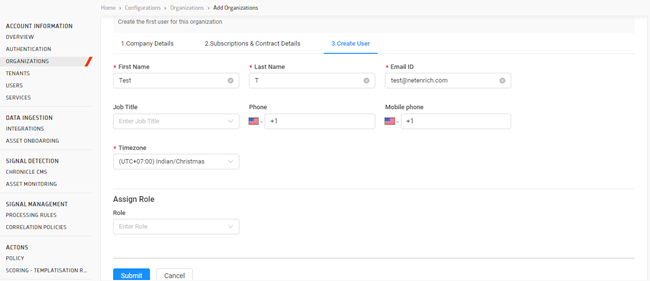 10. Click Submit
Your organization details appear on the listing page