Roles Required: The following roles required for successful configuration.
In Customer application:
Prerequisites
You must have a previous version of Netenrich Connect app installed in your ServiceNow account
Your region should be Tokyo, SanDiego, and Rome
Upgradation of your Netenrich Connect app can be done in two ways.
Method 2: Upgrade from Customer application UI
To upgrade Netenrich Connect app,
Login to your application with valid credentials
Search "Plugins" in the application navigator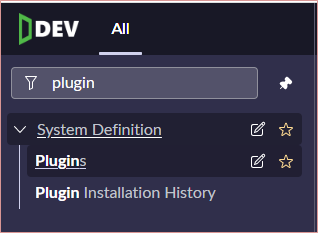 3. Click Plugins obtained from search result
4. Search "Netenrich Connect" in the top search bar.
Netenrich Connect app appears on your screen

5. Click Install next to the app
Multiple versions appears from the dropdown
6. Select the latest version that you would like to install
A popup message appears on your screen "You have installed xxxx version successfully"
Verifying your Netenrich Connect App version
You must be curious to know whether the latest version is installed in my account or not. Here we provide the following procedure to verify which version of Netenrich Connect app installed in my account.
After you have installed the version that you have chosen from the dropdown list using step 5 in method 2, see the version no# xxxx is displayed next to the Netenrich Connect app

Now go to ServiceNow store and check the version no# displayed next to the Netenrich Connect app tile

Compare both the versions shown on the above screenshots and you would know the latest version of Netenrich Connect app installed in your account