With Resolutions plan, you will be able to configure two-way ServiceNow integration in Resolutions Intelligence Cloud to sync all ActOns to ServiceNow.
This guide will help you get started with your Netenrich Connect application, from configuring the application to synchronizing your first entity.
Netenrich Connect application acts as a gateway between Resolution Intelligence Cloud and ServiceNow. The app enables you to get bidirectional synchronization of data from Configuration Item, Incident, Change Request, Service Request, Problem, Groups, Case, Report, Notification, and Scheduled Job entities on a real-time basis. It also allows the ServiceNow admin to define the policy and control what information gets shared with the Resolution Intelligence Cloud.
Requirements
Before you begin integrating ServiceNow with Resolution Intelligence Cloud, you should install Netenrich Connect app in ServiceNow from the ServiceNow store.
Integration Walkthrough
To enable ServiceNow integration,
From the Resolution Intelligence interface, navigate to Configurations --> Integrations --> ServiceNow <--> Netenrich tile.

Click Add. A dropdown appears and select any of the following options to enable the integration.

Add New integration: creates a new instance
Inherit from Parent: Gets the integration settings from parent

Under the Inbound section, in Authentication type, select OAUTH2
Click Save
A Key and Consumer Secret will be generated, and it is used for managing all incoming event flows by the platform.
In Outbound Authentication,

In Notification type, select REST API
Configure the ServiceNow Instance base URL.
In Authentication Type, select OAUTH2
In Grant type, select Password Credentials.
In Access token URL, enter OAuth API endpoint which is created in ServiceNow Instance along with the API Key and Consumer Secret.
Provide your netenrichuser username (for example, default user is netenrichuser) and password to enable synchronization (refer to Note 1).
Click Add and enable the following events.
Change_Management

Incident_Management

Problem_Management

Service_Request

Case Management
To enable the above events, you will need to setup field mappings, status mappings and priority mappings in each event in order to generate tickets in ServiceNow.
For example, the following image shows the fields that you need to setup in order to generate incident tickets in ServiceNow.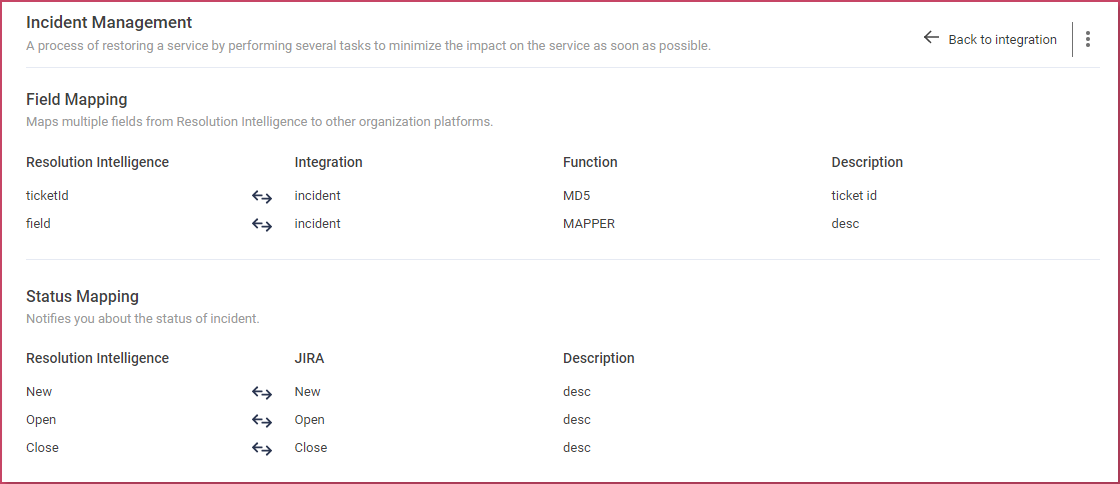 6. Click Save

Tenant Mapping
You can map single or multiple tenants between Resolution Intelligence Cloud and your ServiceNow project through an interactive UI.
To map a tenant to your ServiceNow integration,
After you have configured the integration, click Tenant Mapping --> Add Mapping
A dialog box appears
In Tenant Name, select a tenant from the dropdown
In Project field, enter name of your Jira project that you would like to map
Click Add Row

Repeat the steps from 1 to 4 to add multiple tenants in the next rows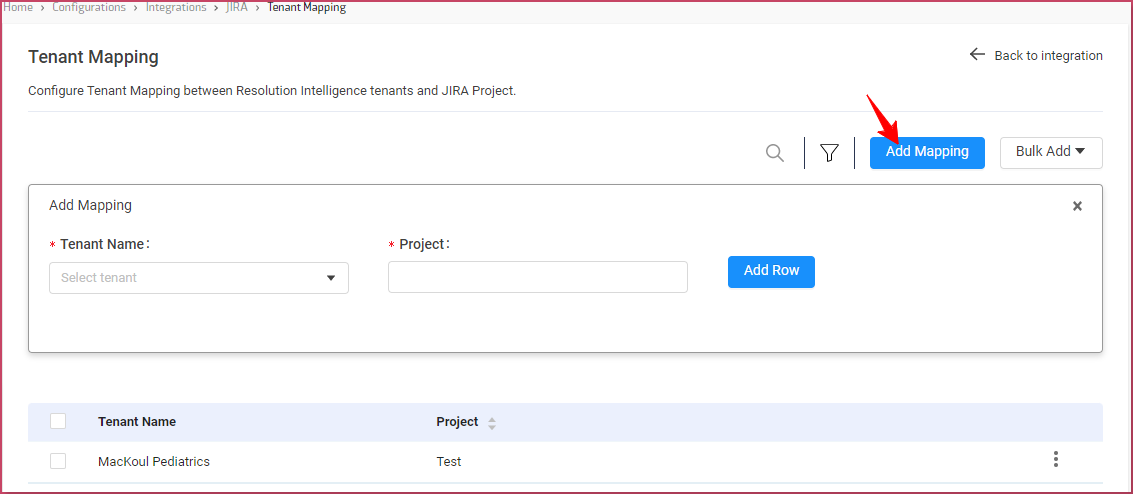 Also, you can bulk import multiple tenants using a CSV template that is downloaded from tenant mapping screen.
To download and import a CSV file,
After you have configured the integration, click Tenant Mapping

Navigate to Bulk Add --> Download CSV template
A template is downloaded into your local drive
First, you will need to fill the csv file with a valid tenant name, mapping status and project key
Click Bulk Add --> Import CSV file
A dialog box appears
Click Import CSV and select your tenant mapping file from local drive
Click Open
A message appears on your screen
Click Yes to continue
A Mapping CSV file will be added to tenant list

After you have enabled the integration and added events such as Change, Service Request, Problem, and Incident in Resolution Intelligence, you can activate Netenrich Connect app in ServiceNow.
Quick Links